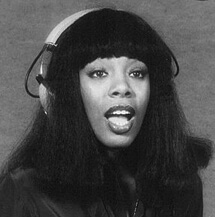 Donna Summer was a singer, songwriter, and visual artist who was most popular in the 1970s and 1980s. Throughout her musical and artistic careers, Donna Summer's creative talents took her to new levels of artistic exploration and innovation.
LaDonna Adrian Gaines was born on December 31, 1948 in Boston, Massachusetts. She had six other siblings, raised in a conservative Christian home. She grew up listening to Motown and singing in Church choirs, focusing on her voice. After she dropped out of school to focus on music, LaDonna began touring with the band, Crow, until they moved to New York, where she began her Broadway career. Gaines moved to Germany to tour with various musicals and pop groups, learning fluent German and traveling Europe.
The artist finally found her calling in the 1970s, producing her first album, "Lady of the Night" in 1974 under her new name, Donna Summer (an anglicized version of her ex-husband's name, Sommer). Her album wasn't released in America but it was fairly successful across Europe, reaching number one in Belgium. Her first big hit – controversial as it was – was "Love to Love You, Baby" in 1975, reaching #2 on Billboard's Hot 100 in America. Other hit singles quickly followed and her subsequent albums, "Love Trilogy" and "Four Seasons of Love," both went gold in the United States. Donna was awarded with five Grammys and the honor of being the only artist to achieve three consecutive double albums at the number one spot on the U.S. Billboard chart. She also had four number one singles within a 13 month period. In total, Summer had three Multi-Platinum albums, 11 Gold albums, 12 Gold singles, and 17 Grammy nominations (five awarded).
Summer's music career led her to find the visual arts, as well. A self-trained artist and avid painter for more than 15 years, she emerged as a creator of dramatic images radiating the same energy and fervent passion as her acclaimed music. The pervasive rhythms and striking colors of her imagery have grown increasingly intense and vibrant as she has explored new media, styles, and subjects. Summer's visual art incorporates stylistic elements of European "naïve" and expressionistic art – with color employed as a means of conveying emotion – while her imagery was frequently based on themes from her own music.