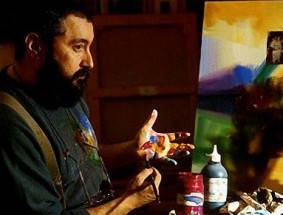 Dima Gorban has established a name for himself in the art world with his richly-colored, photo-realistic paintings and graphic works of wines and interiors.
Gorban was born in 1961 in the former Soviet Union and was raised in Kishinev (present-day Moldova). He began painting when he was just seven years old and began to study art at the Kishinev School of Art at age 10 where he was recognized for his early artistic talent. Gorban continued to hone his craft at the Higher School of the Painting Arts in Kishinev.
After graduating in 1980, Gorban's work began to be included in exhibitions all over Moldova, and his works were also included in a permanent exhibit in the Moscow Film Academy's drawing department. Gorban furthered his fine art studies at Lvov Academy for Painting in 1989.
Gorban's initial profession was as a graphic designer. He first began creating wine paintings while designing labels for Russia's Ackerman Winery. Much of Gorban's inspiration for these works came from his childhood when his grandfather grew grapes and made wine for his family.
Gorban continued to support himself and his family as a graphic designer when they relocated to Israel in 1990. Though he was successful in the industry, designing labels for a prominent textile and clothing manufacturer, Gorban began to feel nostalgic for his painting, and soon after directed his attention to fine art full time. His work is collected throughout the world, and has been featured in exhibits in Kishinev, Moscow, Amsterdam, Tel Aviv, and New York.