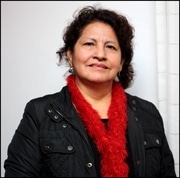 Former teacher and designer Diana Mendoza is known for her spiritual art that blends European and Peruvian techniques into a unique style by combining gold and silver leafing with oil on canvas.
Personal History
Mendoza was born in Junin, Peru. Mendoza enjoyed creating art from a young age and sketched throughout school. She initially pursued studying engineering, but ended up studying fine art instead.
READ MORE +
In 1969, Mendoza graduated from the Escuela Nacional de Bellas Artes with high honors in painting and drawing. Mendoza became a teacher and designer before making the decision to devote herself to her painting. In addition to her artistic skills, Mendoza is an accomplished musician and mother.
Mendoza is constantly honing her technique, creating both large and small format artworks, while studying new subjects to incorporate into her works. She strives to convey feelings and themes of peace, protection and happiness.
"I love to paint, I feel like it's a necessity, I need to paint and express my feelings through my paintings," Mendoza says.
Style and Influences
Mendoza works primarily with spiritual and religious imagery, and is best known for her renderings of the blessed Madonna. Her style fuses European techniques with her Peruvian arts education, using skillful precision to create detailed works of art. Her meticulous work ethic loans itself to using gold and silver leafing to add yet another layer of detail, resulting in sublime and dramatic imagery.
The artist begins a work of art by drawing an image, many of which are inspired by works from the Old Masters. Once she is finished, she achieves dramatic texture through the application of relief. From there, Mendoza brings the drawing to life with oil paints and the addition of gold leaf. Finally, she completes her creation with a touch of patinas.
Mendoza strives to create the perfect painting, but like most artists, she believes her work is never done. Conversely, as much as she hopes to create the perfect painting, Mendoza never wants it to come to fruition so she can continue to do what she loves.
Accomplishments
Mendoza has participated in several exhibitions, including: the Galeria Entre Nous, Lima (1983); Arte Popular de Peru, Salvador, Brazil (1984); Universidad de Bahia, Brazil (1986); Galeria Panorama, Bahia, Brazil (1986); Country Club Jacaranda, Bahia, Brazil (1988); Club Ancash, Lima, Peru (1988); Asociacion de Artistas Plasticos del Peru (1988); Galeria Picasso, Lima, Peru (1988); Casa de la Cultura, Manaos, Brazil (1992); Palacio de Cultura, Rio de Janeiro, Brazil (1992); Instituto Peruano Norteamericano, Lima, Peru (1993); and Galeria Chagall, Lima, Peru (1994).