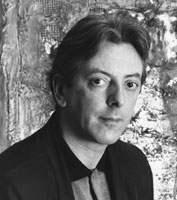 David Dodsworth gained a Bachelor of Fine Arts before setting up his own studio. Experimenting with imagery and methods of original print and papermaking, he works with thick paints, gold leafs, and metals that he cuts with a jigsaw. He has created a totally individual style that became world renown by 1985.
David's work is typified by his use of exotic cast papers and the technique of carborundum aquatint – an innovative approach made famous in original intaglio printmaking by Joan Miro, the master surrealist. In this technique, a silicon carbide mixture is built up onto the surface of a copper plate (or sheet of thick Plexiglas). When a sheet of moistened paper is pressed up against the plate, a highly textured relief area is created which can be manipulated further by the applications of various pigments and materials. Dodsworth's imagery is abstract but simultaneously pleasing, incorporating many visually exotic techniques and characteristics.
He has won prizes in Japan and Germany and was accepted into the Royal Society of Painter-Printmakers in England. Many works by Dodsworth have been commissioned by some of the world's largest corporations for their company headquarters and his works are represented in many leading galleries throughout the United States, Canada, and Europe.