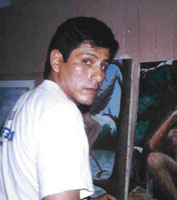 Born in the famous port of El Callao in Peru in 1962, Danko was greatly influenced by his parents who were professional dancers and lovers of the graphic arts. Since he was young, Danko was exposed to the works of the best and most dramatic Peruvian painters. His brother and sister became artists, as well.
Danko graduated from the Escuela de Bellas Artes in Lima, Peru. He also studied Peruvian Dance at El Centro Folklorico del Magisterio "Alejandro Vivanco Guerra."
His professional experience includes being an art teacher at the Escuela Superior de Formación Artística de San Pedro de Cajas while in charge of Social Projection and Administration.
Most important exhibitions
1994 "Muestra Pintorica de la Exponea 1994," Central National University in Huancayo, Perú
1993 "Tapices," Centro Cultural Inca Garcilazo de la Vega in Lima, Perú
"Salon Annual," Museo de la Nación in Lima, Perú
"II Salon Annual," Cesar Vallejo, Sala de la Cultura del Banco Wiese in Lima, Perú
1992 "Anuario 1992," Salón de Actos-ambiente de la Escuela de Bellas Artes in Lima, Perú
"First Exposition of Young Artist," Oscar Quiñonez Gallery in Lima, Perú
"Jovenes Valores," in Ica, Perú
1991 "In Honor of San Francisco de Asisi," Club de la Unión in Lima, Perú
1990 "Daniel Hernández," Huancavelicanos Artists at Casa Osambela
1990 "Bodegones de Estudiantes de Artes," National Association of Artists in Lima, Peru
"Mancha Gris," Propuesta de Jovenes Pintores at Casa Osambela