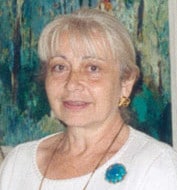 Daniele Cambier was born in Paris in 1939. Her work has been exhibited frequently at Les Palais des Congrès de Paris, in numerous shows, and in presentations of the Chambre des Metiers de Paris.
Growing up, she spent her time with her father, the artist. As she watched him paint and research, she realized she was less interested in the isolation of her father's work and more drawn to the stage. Preferring this human contact, she became an actress, embarking on many theatrical tours in France and abroad.
Little by little, painting began to take precedence once again, presiding over her theatrical activities. From that time forward she has devoted herself entirely to the visual arts.
Initially, she was drawn to painting on silk but she eventually realized her interest in watercolor. She had spent years learning its unforgiving technique before she finally decided to devote herself entirely to the medium. She remains fascinated with the beauty of nature, landscapes, and the details of the city. She creates exceptional works that harmoniously combine all three elements.