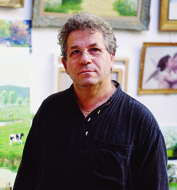 Claude Cambour has mastered the classic tradition of painting "en plein air" – a kind of open-air painting established in 19th century France. A technique made famous by the French Impressionists, "en plein air" was used to most accurately capture the beauty of natural light, color, and shadow in its immediate environment. Cambour's vividly colored, tranquil French landscapes have drawn comparisons to such masters as Claude Monet and Pierre-Auguste Renoir who inspired the artist greatly in the youth of his career, continuing to influence his work today.
Cambour was born in 1940 in Normandy, France. His interest in art developed at an early age and upon returning home following his military service, Cambour moved to Paris to develop his painting technique. He studied the work of the masters – Monet, Renoir, Pissaro, and Sisley – and enrolled in painting courses at the Union des Arts Plastiques de la Ville de Saint-Denis. It was here that the first public exhibitions of his work were held.
He finds his greatest inspiration in the lush landscapes of Giverny – the same village that Monet painted and called home. Cambour settled in Giverny in 1985 and paints its forests, gardens, paths, and ponds in boldly colored, highly realistic detail. His works are collected and exhibited throughout France and around the world. Cambour passed away unexpectedly on January 25, 2012 in Giverny and left behind an incredible legacy of art.