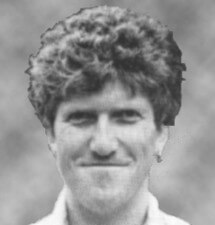 Charles Penny was born in 1952 in Germany. He began his artistic career early in life. Educated in London, he graduated from Kingston Polytechnic and the St. Martins School of Art. Until some twenty five years ago, he devoted the majority of his creative energies to freelance illustration.
Penny's etchings and limited edition serigraphic screen-prints were first printed and published in 1984. Since that time, he has enjoyed great international success and established a cult-like following of devoted collectors. His ability to paint light and shade and convey the heat and atmosphere of a setting has earned him a place in the annals of original printmaking of the latter half of the twentieth century.
He has also made a name for himself due to the highly distinctive quality and style of his Mediterranean-themed works. In fact, Penny is generally accepted as one of the most accomplished watercolorists working today.
Penny's many one-person shows include London's AM Chadwick Gallery, Amalgam Gallery and Harrods, as well as many exhibitions in Japan.