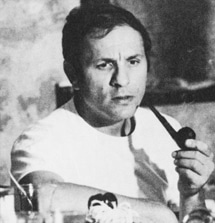 Calman Shemi, sculptor and painter, was born in Argentina in 1939. A graduate of the School of Sculpture and Ceramics in Mendoza, he studied with the Italian-Argentine sculptor Libero Badii and the German Israeli sculptor Rudi Lehman. In 1961, he settled in Israel and joined Kibbutz Carmia where he was a member for twenty years.
Comparing his art to poetry, Calman Shemi has pursued an artistic expression that conveys basic human experience and speaks to the relationship between the individual and natural environment. Having developed a medium of "soft painting" while living in his adopted homeland of Israel, Shemi creates vibrant fabric compositions imbued with the color, light, and movement of the natural world. Using a thread-less 9,000 needle sewing machine, the fabrics are fused one another and the background, resulting in vibrant compositions exploding with exuberant color and dynamic movement. Motifs from nature become universal signs for land, water, sky, vegetation, and sunlight. Shemi has extended this same expression into a variety of media, including sculpture, graphics, and paintings on paper and canvas.
During the last eighteen years Calman Shemi has held more than 70 one-man-shows in the United States, France, Germany, Spain, Belgium, Japan, and Israel. Today the fine art of Calman Shemi can be seen in many public places and private collections around the world.