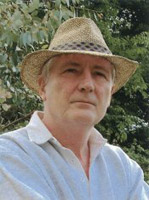 Self-taught artist Brian Jull was born in 1949 in Greenwich, London in England. Greenwich is a town on the bank of the river Thames and its naval history helped to shape Jull's life. Jull began drawing as a child, though professionally he would first follow in his father's footsteps as a seaman, joining the merchant Navy at 18.
By the time he was 21 Jull had met and married his wife, had his first son, retired from the merchant Navy and settled again in England. At this time Jull began to re-explore his interest in the arts. He studied the work of the masters at the nearby Maritime Museum and began painting seascapes, traveling to towns along the English coast to best capture the scenes.
Jull's style has evolved over the years. His recent, highly popular oil paintings focus on the effect of varying natural light on outdoor city scenes and landscapes. Visits to France gave him the opportunity to experience the work of 19th century artists that inspired him, like Georges Seurat, Claude Monet, and Pierre-Auguste Renoir. Jull enjoys traveling to find inspiration, making sketches and taking photographs of the places he visits. Jull's works are widely collected throughout England and abroad.