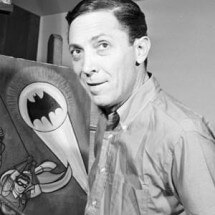 Born Robert Kahn in New York City in 1915, Bob Kane legally changed his name when he turned eighteen. He began working for Max Fleischer Studios in 1934 as a trainee animator, and in 1936, began his freelance comic book career. Kane did most of his work though Eisner & Iger, creating characters for two of the companies that would later merge for form DC Comics. In 1939, with DC Comics' huge success with "Superman," Kane pitched his idea for "The Bat-Man" with help from colleague Bill Finger. "Batman" became one of the most popular comic books of all time, spiraling into animated, television, and cinematic features throughout the 20th and 21st centuries.
Since 1939, Bob Kane's unmistakable line and bold, electric coloration embodied in his classic fictional characters of Batman and Robin have been a constant part of America's consciousness. Kane created Batman for D.C. Comics when he was only 18, and by 1996, he had been inducted into the Jack Kirby Hall of Fame and the Will Eisner Comic Book Hall of Fame. He retired from D.C. Comics in 1966 to concentrate on fine art.
The animated cartoon versions of "Batman" (1974) and "Batman and Robin" (1977-78) were based on Kane's Batman and Robin characters. Kane also created the animated series "Courageous Cat" (1958) and "Cool McCool" (1974). In 1969, he wrote the screenplay for "The Silent Gun." Kane's Batman was included as an example of American culture among 20th century memorabilia in the 1939 World's Fair Time Capsule, to be opened in the year 2000. Works by Kane are in many private and public collections, including the Museum of Modern Art in New York City, the Whitney Museum of American Art in New York City, and St. John's University in Jamaica, New York.