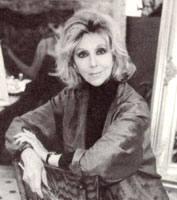 Barbara A. Wood is a native of Ohio. She attended school in Toledo and graduated from high school with a scholarship to Traphagen School of Fashion in New York. Her instructors found her work so creative and expressive that they encouraged her to pursue fine arts.
She enrolled and completed her formal studies at the famous Art Students' League in New York. She later married and moved to Southern California. In an effort to polish her burgeoning technique, she began postgraduate studies at the Otis Art Institute and the Pasadena School of Fine Arts.
READ MORE +
Barbara A. Wood is an artist who communicates with the viewer. Fascinated by color, her canvases display an extremely individualistic, figurative style. She says, "Painting, to me, is a joy, a challenge, a fulfillment and a love affair. It is a vehicle for expressing impressions I have drawn from a tangible world, where color is the music of painting." Her subjects are mostly women who reflect a mood melding folly and the beauty of human drama. Raised by her mother, grandmother, and great-grandmother, the personalities and hardships within each woman became the catalyst for her art. As an only child and quite often bedridden with bouts of pneumonia, Barbara spent most of her time painting alone. While this was a personal obstacle she had to overcome, her imagination was strengthened, designing her friends on canvas.
Internationally known, Barbara has had major one-person shows throughout the United States, Australia, Canada, and London. Her works are part of the collections of numerous celebrities as well as private collections throughout the world. Her paintings are in the collections of His Majesty the King of Saudi Arabia's Private Office, President George H. W. Bush, Georgia Governor Sonny Perdue, Elizabeth Taylor, Hugh Hefner, Jane Seymour, Jerry Lewis, Mickey Rooney, Dick Van Dyke, Dennis Weaver, Art Linkletter, Ron Howard, Gavin MacLeod, and many others.