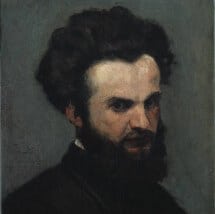 Jean-Baptiste Armand Guillaumin was born in Paris in 1841 to a working class family from Moulins. His early working experiences occurred at his uncle's lingerie shop and as an employee of the French government. He was able to attend drawing classes at night when he wasn't working on the railroad or the highways.
When he attended the Académie Suisse in 1861, he met Paul Cézanne and Camille Pissarro – two artists he would maintain friendships with for his entire life. Their works were constantly affected by each other, influencing styles and subjects. Cézanne's first etchings were even based off of paintings produced by Guillaumin. Throughout the 1870s, Guillaumin traveled with Pissarro, settling in Pontoise. Cézanne followed shortly.
As an Impressionist, Guillaumin exhibited at six of the eight Impressionist exhibitions, plus Salon des Refusés in 1863. His work was sold by friend Vincent van Gogh's brother, Theo, which became his second form of income after winning 100,000 francs in the French lottery in 1891.
His paintings are primarily French landscapes, especially focusing on the village of Crozant, giving him the nickname, the leader of the Crozant School. In the 1890s, his color became brighter and more subjective, anticipating the Fauves.
Guillaumin died in 1927, just outside of Paris, who was the last surviving member of the Impressionist group. His paintings are exhibited in the most prestigious institutions across the world, alongside the works of his friends and contemporaries.