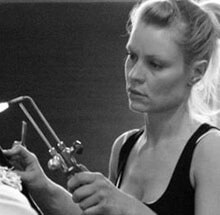 Born in Muskegon Michigan, a small town on the shores of Lake Michigan, April grew up enjoying many summers on sandy white beaches. A natural artist, her interest in form, color, and line were apparent since early childhood. Blessed with understanding parents, April was encouraged to focus her education on the arts; exploring music, dance, and many types of visual arts. Her talent allowed her to receive a scholarship to Interlochen Arts Academy, an exclusive private high school for the arts, helping her get a jump start on her career. She initially focused on ceramics and in college developed a passion for blowing glass.
"I was in love with ceramics, but then I tried glassblowing and realized I never wanted to work in clay again, I'd found the thing I wanted to do for the rest of my life," says April. She draws inspiration for her work from her other passions — landscaping, and gardening.
She states that, "Being human is a difficult and often lonely journey in which we strive to understand ourselves and the world around us. Through art we attempt to see ourselves more clearly. Whether reviled or revered, we are affected. Nothing speaks to our humanity more than the arts."
April graduated with a BFA in 1996 from the College for Creative Studies in Detroit, MI. She has been blowing glass for 19 years. She owns epiphany studios in Pontiac, MI, the largest private hot glass blowing studio in the Midwest. Her work is shown in over 300 galleries worldwide and is featured in numerous public, private, and corporate collections, including GM, Pfizer, Strategic Staffing Solutions, The Townsend Hotel, Hyatt Mauii Resort, and The Four Seasons Resorts. One of April largest public projects was a commission for a 15' x 15' wall sculpture titled 'current leaves' for the atrium of the new Midwest Medical Center in Dearborn, MI.
April is currently the owner of Epiphany Glass in Pontiac, Michigan. She has private and corporate collectors all over the world, including Four Seasons, Goldie Hawn, Detroit Regional Chamber, General Motors Corporation, Ross Controls (Troy), Pfizer, Inc. (Ann Arbor), Strategic Staffing Solutions, Inc. (several locations), former Detroit Mayor Dennis Archer, and Russian President Vladimir Putin.
She has been featured in The Detroit News, The Detroit Free Press, and Detroit Home, plus on WDIV (Channel 4) and WJBK (Fox 2). In 2005, Wagner was listed among the Top 40 under 40 published by Crain's Detroit Business.
April also has a brand new store in the Compuware Building in Campus Martius, downtown Detroit. She opens her studio on the first Thursday of every month, inviting guests to watch her blow glass.