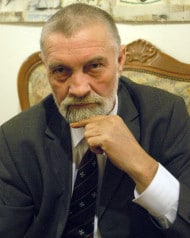 András Markós was born on June 16th 1950 in Miercurea Ciuc, (Csíkszereda, Csíksomlyó, Sumuleu), Harghita County – Romania. As a young man, András studied fine arts at the Art Academy Ion Andreescu in Klausenburg, Romania. After graduation, he worked as a graphic designer for many years, he then turned his attention to being curator of medieval church art at the Komitatsmuseum in Cskszereda and Set Designer for the Hungarian State Theatre. By 1981 András had exhibitions throughout Europe and finally in America, establishing himself as an internationally renowned artist. The artist passed away in 2020.
His work was grounded in abstract expressionism and conceptual art. He frequently worked in thematic series and often incorporated words and calligraphic ideas, as well as collage into his imagery. Markós worked in many medias, including painting on canvas and paper, lithography, serigraphy, etching and ceramics.
His list of group shows included appearances at "Zalavar 74," Hungary in 1974, "Joan Miro" International Competition for drawing, Barcelona, Spain and "Clausur" with "Die Gruppe" at L'Esplanade la Defense, Paris in 1984. Also, his one-person shows have appeared at Galerie Basilisk, Vienna in 1981; Neues Rathaus Galerie, Leonberg, Germany; Maison des Arts, Belford, France in 1987.
A Brief Chronology
1950: Born in Cskiszereda
1969-73: Studied at the Art Academy "Ion Andreescu" in Cluj-Napoca (Klausenburg), Romania/ renamed Universitatea de Arta si Design Cluj-Napoca / Universität der Künste und Design Klausenburg / University of Art and Design's Cluj-Napoca
1973-76: Worked as a designer at Uniunea Judeteana A Cooperatiei Mestesugaresti – Union County Handicraft Cooperative Organization AISI – UJCM
1976-78: Curator of Medieval Art at Museul Judetean Harghita, recently renamed Csiki Szekely Muzeum / Szeklermuseum of Csik, Miercurea-Ciuc, ( Szeklerburg, Csíkszereda), Romania
1978-80: Scenographer at the Hungarian State Theatre in Sf. Gheorghe, Covasna, Romania / recently renamed Tamasi Aron Theatre Sf. Gheorghe (Sepsiszentgyörgy) Covasna, Romania
1980: Emigrated to Vienna
1981: Residency at the Academy of Fine Arts in Vienna and the Vienna University
1981: Resettled to Germany
2020: Passed away
Entrepreneurial Activities
1982: Established the gallery "Art Studio Markós" in Leonberg
1986: Set-up the Glaskasten Edition & Publishing GmbH Germany – Managing Director
1993: Formation of Glaskasten Intermedia Group Germany and Hungary
1996: Glaskasten Intermedia Group /Hungary, founded the gallery Madách
2000: Formation of Glaskasten Intermedia Ltd. Romania (market introduction and monitoring of various German and international companies on the Romanian market such as: SER Solutions, Bearing Point, Elcotec, etc) – Managing Director
Single Expositions
1981: Basilisk Gallery, Vienna (Austria)
Schloss Lamberg, Mór (Hungary)
1982: Gallery LeonArt, Leonberg (Germany)
1983: Gallery Spectrum, Vienna (Austria)
1984: "Synesthetic Installation", Schweinfurt (Germany)
1987: Museum Ostdeutsche Galerie, Regensburg/ Museum East German Gallery, Regensburg (Germany)
1988: Park West Gallery, Southfield, MI (USA)
1989: Gallery Xenia, Overasselt (Netherlands)
Kunsthaus Lübeck, Art House Lübeck, Lübeck (Germany)
1990: "Unusual art history" Marlies Breiling Gallery, Stuttgart (Germany)
1991: City Museum, Waldkraiburg (Germany)
1993: Walter Bischoff Gallery, Stuttgart (Germany)
Art House Lübeck, Lübeck (Germany)
Gerlingen Town Hall (Exhibition with Frederick D. Bunsen), Gerlingen (Germany)
Gallery for studio and stage art, Bad Dürkheim (Germany)
Gallery Stevenson, San Diego (USA)
1994: Gallery Punto, Valencia (Spain)
Gallery Gerlinde Walz, Stuttgart (Germany)
1995: Gallery Andreas Bastian, Munich (Germany)
Park West Gallery, Southfield, MI (USA)
Museum of Fine Arts, Malta (The Malta Project – Drawings)
Mediterranean Conference Center, Malta (The Malta-Installation Project)
1996: Gallery Gerlinde Walz, Frankfurt (Germany)
Gallery of the OPT Bank, Budapest (Hungry)
1997: Gallery Gerlinde Walz, Stuttgart (Germany)
The "Cuckoo's Egg" project for Documenta XI, Kassel (Germany)
Installation of the "Cuckoo's Egg" series at the Center Pompidou, Paris (France)
Installation of the "Cuckoo's Egg" series at the entrance of the Biennale di Venezia Venice (Italy)
Installation of the "Cuckoo's Egg" series at the Guggenheim museum in New York (USA)
Gallery Walter Bischoff, Berlin (Germany)
1998: Museum for Romanian Literature, Bucharest (Romania)
1999: Gallery Eri "Unexpected History of Art, Budapest", Budapest (Hungry) & Han Art Gallery, Montreal (Canada)
Carinthian Provincial Art Gallery "Take Over" installation, Klagenfurt (Austria)
City Gallery Ljubljana "Take Over" installation, Ljubljana(Slovenia)
2000: Gallery Gabriel "Bal Propfan" Vienna (Austria)
2001: Event and Performance "24 hours" Harghita Visual Art (HVA) Gallery Harghita, Miercurea-Ciuc (Romania)
Performance on the net (Miercurea Ciuc / physical action – Toronto / virtual action / web service, web design, interactive direct upload)
2007-08: "The revival of indulgentia – Intention and examples for common art work to the Senatores and Deputies Romana" Romanian Academy, National Foundation for Science and Art, Bucherest (Romania), together with Zsuzsanna Tódor and in the Gallery ProArt, Gheorgheni (Romania)
Matthias Corvinus House, Cluj-Napoca (Romania)
2010-11: "The revival of indulgentia – Franchise Temptation for 24 Hours" with the performance "We are not guilty" (Wir sind nicht schuldig) by András Márkos Infantellina Contemporary /Taubenstraße 20-22, Berlin (Germany)
"in(no)centive- art- outdoor- connections and collective- performance" outdoor event on the Potsdamer Platz, Berlin (Germany)
The revival of indulgentia / Project-series: "Meta-Subversion of Signs No.1-24" Planned for 24 different cities, between Hamburg, Vienna, Berlin, Wismar, Szentendre (HU) Taormina (I), etc.
2011: "East Berliner (Kunst) Alaßbriefserie I-XCV", gestartet (Berlin)
2012: "First Berlin Letters of Indulgence I-XCV" Gallery Kai Higemann, Markgrafenstraße 67, Berlin (Germany)
Group Expositions
1981: GraphicsTriennial, Grado (Italy)
Graphics Triennial, Miskolc (Hungry)
1981-83: Graphic Biennial, Ljubljana (Yugoslavia)
1982: City Gallery, Vaasa (Finland)
City Hall Strassburg, (France)
1983: "German Contemporary Art" Corvallis-Ashland-Medford (USA)
1984: International Painting and Drawing Competition Joan Miro, Barcelona, (Spain)
"Clausur avec Die Gruppe" Gallery L'esplanade de la Défense (Gallery of the Spanish defense), Paris (France) and Schloss Heimsheim
1984/90: European Graphic-Triennial, Baden-Baden, (Germany)
Metropolitan Museum of Fine ART, Tokyo (Japan)
Art, Basel/Gallery Spectrum, Basel (Switzerland)
Art Cologne, Galerie De Sluis, Köln (Germany)
Gallery Xenia, Overasselt (Netherlands)
1992: Art Basel, Walter Bishoff Gallery, Basel (Switzerland)
Villa Merkel, Esslingen am Neckar (Germany)
Art, Multiple, Düesseldorf (Germany)
Gallery Spectrum, Munich (Germany)
Szombathely Kunst halle, Szombathely (Hungary)
City Museum, Waldkraiburg (Germany)
1993: AL Galerie Gerlinde Walz, Stuttgart (Germany)
Arte Fiera di Bologna (Bologna Art Fair), Galerie Gerlinde Walz, Bologna (Italy)
SAGA Paris, AL Edition
SAGA Paris, Art House Lübeck, Lübeck (Germany)
SAGA Paris, Visconti Fine Art, Ljubljana (Slovina)
Glass case edition, Leonberg (Germany)
"Dynamic Compositions" , Budapest (Hungry)
ARCO, Madrid/Gallery Walter Bischoff (Spain)
1994: Arte Fiera di Bologna (Bologna Art Fair), Gallery Walter Bischoff, Bologna (Italy)
Museum Ostdeutsche Galerie/ Museum of East German Gallery Regensburg(Germany)
SAGA Paris, Gallery Gerlinde Walz, Chicago International Art Fair, Chicago (USA)
Staufen-Akademie, Bad Boll (Germany)
Mercedes Benz AG, Sindelfingen (Germany)
Art Multiple, Duesseldorf, Gallery Gerlinde Walz (Germany)
1995: Arte Fiera di Bologna (Bologna Art Fair), Gallery Gerlinde Walz; (Italy)
Art Frankfurt, Gallery Walter Bishoff
Art Multiple, Düesseldorf Gallery Depelman
Art Multiple Düesseldorf, Glass case Edition
1996: The European Bank for Reconstruction and Development, Frankfurt (Germany)
NICAF, Tokyo (Japan) with Gallery Gerlinde Walz / Stuttgart and Glaskasten Edition Verlag/ Leonberg (Germany)
1999: Stockholm Art Show with Gallery Erdesz- Menschikoff (Sweden)
2002: "Black Box" Exhibition in Hargita Visual Art (HVA), Miercurea Ciuc (Romania)
"Temptation" ROMA Project at the Academy of Romania / Rome (Italy)
2004: "INTERart 2004-Face to Face", Hargita Visual Art Gallery, Miercurea Ciuc (Romania)
"INTERart 2004-Face to Face", Târgu Mureș (Romania)
2005: "INTERart 2004-Face to Face", KOKEM Gallery for contemporary art, Miercurea Ciuc (Romania)
2009-10: Project "Revival of indulgentia-Premonition of the financial and economic crisis/ Deconstruction of the Letters of Indulgence and the modern indulgences" Multidisciplinary project with interactive platform and portal for digital creation.
2010: "I am who I am" Infantellina Contemporary Gallery, Berlin with Jeff Chies, Domino, Hilary j. England, Josef Karl, Anita Keckeis, Sinn, Hans Peter Schmidt, Ivor Sias and the performance "We are not guilty" (Wir sind nicht schuldig) by András Markós, Infantellina Contemporary Gallery, Berlin (Germany) "in(no)centive- art- outdoor- connections and collective- performance" outdoor event on the Potsdamer Platz, Berlin (Germany)
The revival of indulgentia / Project-series: "Meta-Subversion of Signs No.1-24" Planned for 24 different cities, between Hamburg, Vienna, Berlin, Wismar, Szentendre (HU) Taormina (I), etc.
"First Berlin (Art) letter – series of indulgence I-XCV", started on September 22, 2011 in Berlin (Germany)
Collections
Graphic collection Albertina, Vienna (Austria)
Csiki Szekely Museum / Szeklermuseum von Csik,
Miercurea-Ciuc, (Csikszereda,Szeklerburg),Rumänien
East German Museum Gallery, Regensburg (Germany)
Park West Gallery, Southfield, Michigan (USA)
Calw Hermann Hesse Foundation
State Museum Waldkreiburg (Germany)
County offices of Böblingen, Böblingen, (Germany)
Landesbank Baden-Württemberg, Stuttgart
Hungarian National Gallery, Budapest (Hungry)
Gerlinde und Gerhard Walz Sammlung – Budapest (Hungry)
Villa Haiss MUSEUM Museum of Contemporary Art, Zell am Harmersbach (Germany)
Utah Museum of Fine Arts/ Salt Lake City, Utah (USA)
National Museum of Fine Art, Valletta (Malta)
Collection-Politeo, Zagreb/ (Croatia)
Sammlung der Universität der Künste, Clu-Napoca/ (Romania)
College of Lake County art collection. Grayslake, Illinois (USA)