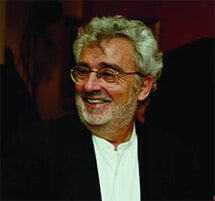 Alvar Suñol Munoz-Ramos was born in Montgat, a Cataluñan city near Barcelona, on January 29, 1935. He started painting at 12, and at 17, he was accepted into the Escuela Superior de Bellas Artes de San Jorge in Barcelona. At 18, Alvar entered a painting into a competition for the Young Painters Prize sponsored by the City of Barcelona. His painting won the grand prize and it is now in the permanent collection of the Museum of Modern Art in Barcelona. His first one-man exhibition in Barcelona was in 1957.
In 1959, during his military service, he began working in Paris under a scholarship awarded to him by the French Institute of Barcelona as a first prize in a painting competition. Once in Paris, he met Juan Fuentes, director of the Galerie Drouant. He gave him a selection of oil paintings and they sold in less than a week.
After signing a contract with the Gallery Drouant, his works were introduced into various circles in Paris. He was praised by the eminent critic, Jacques Lassaigne, who invited him to take part in the Salon School of Paris in 1960. Later that year, he married his childhood sweetheart, Rosella Berenguer, and moved back to Paris for 10 years.
In 1962, Alvar's works were introduced in New York in the Monede Gallery. Alvar produced his first original lithographs for a one-man show at Galerie Drouant in 1963.
In 2001 and 2003, Alvar created public mixed-media works for the Four Seasons Building and Plaza de Mallorquines in Montgat. Also in 2001, a book entitled, "Alvar: Thirty Years of Lithography" was published, chronicling his lithographs. In 2005, "Alvar in Color and Poetry," a book by Dr. Betty Jean Craige, Marjorie Agosin and Alvar, was published.
In 2006, a 42-minute film titled, "Alvar: His Vision and His Art," was written and produced by Dr. Betty Jean Craige and Alan Stecker. The film was awarded 1st place at the Indie Gathering film festival for independent filmmakers and it was honored in the short documentary category. In 2008, Alvar created a sculpture in honor of cellist Pablo Casals that was placed on a street in the Boulogne Billancourt of Paris.