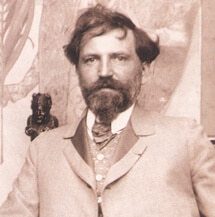 Alphonse Mucha was born in 1860 in Ivancice, Moravia, located in the present day Czech Republic. He played a prominent role in shaping the French Art Nouveau movement around the turn of the century.
Mucha got his start when he was nineteen years old, painting theatrical scenery for the Kautsky-Brioschi-Burghardt theatre design company in Vienna. While living in Vienna, Mucha enrolled in evening art courses. He returned to Moravia in 1881 after a fire destroyed Vienna's theatre district, forcing the scenery company he worked for to close. Count Karl Khuen-Belasi hired Mucha to paint murals for his castle; the Count was so impressed with the work that he sponsored the young artist to get a formal art education at the Munich Academy of Fine Arts.
In 1887, Mucha moved to Paris to continue his studies at Academie Julian and Academie Colarossi. While in Paris, Mucha began designing magazine and advertisements. In 1891, he was hired as an illustrator for the Paris based publisher Armand Colin, one of the first publishers of primary school manuals. It was around this time that he began giving drawing lessons from his studio. His classes became so successful that he was asked to teach at the Academie Colarossi.
Alphonse Mucha's career took off after designing a new poster advertising the play, "Gismonda," featuring the actress Sarah Bernhardt, one of the most recognizable Parisian actresses at that time. The poster was such a success that collectors would steal the posters at night. Sarah Bernhardt signed a six year contract with Alphonse Mucha to design her posters, theatre sets, and costumes.
Alphonse Mucha's rise to success began with theater posters and carried on to decorative panels, his most famous being "The Seasons" series. Mucha also created illustrations and packaging for cigarette papers, calendars, postcards, theatre programs, and menus. His first solo exhibition, featuring 107 works, was held at the Balerie de la Bodiniere. This success was followed by other exhibitions in Paris, Vienna, Prague, Budapest, Munich, Brussels, London, New York and other major cities, including touring with world-famous artist, Auguste Rodin.
Alphonse Mucha branched into jewelry design when the jeweler, Georges Fouquet, commissioned him to design his collection for the 1900 Paris Exhibition. Mucha created stunning and unique designs which started a three-year partnership between Mucha and the jeweler. Mucha went on to design many jewelry pieces, and also redesigned and decorated the new jewelry shop.
Mucha was a long advocate of his native Slav culture. He created many cultural works in order for it to live on; most famously he painted the "Slav Epic." When the country of Czechoslovakia was established, he created imagery for stamps and money. Mucha brought his culture to other countries through his style of art.
In 1939, when Germany invaded Czechoslovakia, Mucha was among the first to be questioned by the Gestapo because of his strong nationalistic ties. Although he was released, Mucha fell ill and passed away, leaving behind a legacy of design and illustrations that are still widely collected to this day.