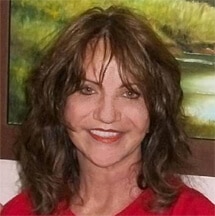 Born in Buenos Aires, Argentina, Alicia Quaini was recognized as a painter at an early age. She studied with masters Amicarelli and Carpanelli and attended the Mutualidad de Egresados de Bellas Artes, located in Buenos Aires, Argentina. In Mexico, she studied with Melquiedades Ejido – a prominent Mexican muralist. She is also a professional musician, studying at the Conservatorio Provincial Julian Aguirre de Moron in Buenos Aires and the Conservatorio Manuel de Falla. And if painting and music were not enough, Alicia has contributed to the study of modern dance at Patricia Stokoe Institute of Buenos Aires and the Escuela de Arte Dramatico of Bogota, Columbia. She has earned her Bachelor's Degree in Education and her Master's Degree in Music.
Quaini equates her life and art with drama. With provocative bold shapes and fruits laden with symbolic meaning, her paintings incorporate an originality that sets them outside the ordinary. She paints with varying depths of light and sensual colors which are coupled with remarkable textural contrasts.
As a multi-faceted artist, it isn't surprising that Alicia Quaini is also a singer, songwriter, musician, conductor and scenographer. She lives and works in Miami, also contributing philanthropically. She is a World Wide Special Representative for Friends of the United Nations and is one of the International Day of Peace Planners, worldwide, for the United Nations. She also works as a UN Consultant for Friends of the UN.
Since 1977, Alicia has had had more than 40 solo exhibitions and 100 group exhibitions, with collections in Argentina, USA, Mexico, Canada, Peru, Colombia, Japan, France, Russia, China, South Korea, Costa Rica, Dominican Republic, Germany, Guatemala, Venezuela, Chile, Finland, Denmark, Sweden, and others. She has exhibited and published internationally since 1998, featured in Art Miami and the New York Art Expo.
Alicia's work has also aired on national and international television series and networks, including The Learning Channel, Extreme Make over, Televisa International, and Univision News.
Awards and Recognition
1961 1st Place at Concurso Juvenil del Oeste – Colegio Rivadavia, Buenos Aires, Argentina
1963 3rd Place at Segundo Concurso Juvenil – Escuela Modelo de Castelar, Buenos Aires
1964 1st Place at Concurso de Jovenes Pintores – Escuela Modelo de Castelar, Buenos Aires
1967 Awarded a Scholarship to study with Master Antonio Parodi, Buenos Aires, Argentina
1967 Honorable Mention at the Segundo Biennial del Noroeste, Baja, Mexico
1997/8 Honorable Mention from the City of Beverly Hills, California
2000 Honorable Mention at the National Orange Show, San Bernardino, California