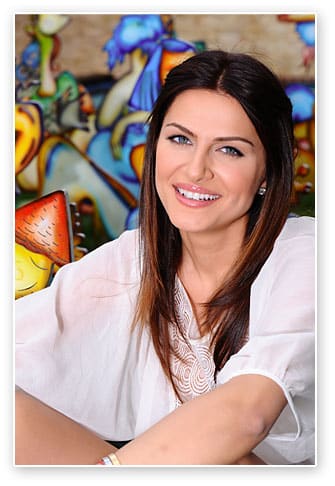 Alexandra Nechita was an early child prodigy who earned the nickname the "Petite Picasso" for her wonderful Cubist paintings. Critics lauded her mastery of line and color and, as her career has evolved over the years, she has developed an exciting visual language that is uniquely her own. Today, Nechita's artwork appears in museum collections around the world and in the private collections of many top collectors.
PERSONAL HISTORY
Alexandra Nechita was born in Romania on August 27, 1985. When she was two years old, her family settled in California. Nechita began working in pen and ink and, by the age of five, she had graduated to watercolors. At seven, she was using oils and acrylics.
Her first exhibit was a one-woman (child) show held at a Los Angeles area public library when she was just eight years old. Her talent was instantly recognized as capacity crowds came to see the "Petite Picasso" as the press labeled her.
She was immediately offered an exhibit at the prestigious Mary Paxon Gallery where the exhibition attracted the attention of art critics and the media who began telling the world about the abstract cubist painter who had only recently turned nine years old.
Over the following months, Nechita was invited to one exhibit after another. As she neared her tenth birthday, she had already held an astonishing eight solo exhibitions and her talent was quickly being recognized by the international art world.
ACCOMPLISHMENTS
Over the ensuing years, Nechita has created artwork for many major events including the 1997 Grammy Awards. In November 1999, she was chosen by the World Federation of the United Nations to lead a Global Arts Initiative, involving more than one hundred nations worldwide. In 2005, she created a United Nations Peace Monument for Asia which she presented in Singapore. She was also enlisted to create a series of paintings for the Special Olympics, entitled "Winning Together."
Nechita's exhibitions attract capacity crowds and her paintings have been acquired by eager collectors as quickly as she creates them. Her works have been sought after by a long list of well-known collectors and celebrities such as Oprah Winfrey, Tony Blair, and the Lee Iacocca family.
Her works hang in many notable corporate offices such as the Walt Disney Company, the offices of Former President Bill Clinton, and Delta Airlines. Nechita's lithographs are hand-pulled collaborative artworks created at Atelier Idem, formerly the Mourlot Press in Paris, France, where such modern masters as Picasso, Chagall, Miró, and others created their lithographs.
To collect the art of Alexandra Nechita, you can contact our gallery consultants at (800) 521-9654 ext. 4 or sales@parkwestgallery.com.
Latest News About Alexandra Nechita