Artists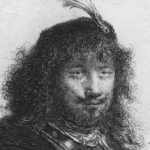 The ninth of 10 children born to Harmen Gerritzsoon van Rijn, a prosperous miller, and Neeltgen Willemsdochter van Zuytbrouck, the daughter of a baker, Rembrandt was born in Leiden, Holland – then considered to be one of the principal artistic and intellectual centers in Holland.
Artwork
Sorry, no artworks matched your search
Latest News
The Easter season is a sacred time for people all around the world, but two long-time Park West collectors in Minnesota found an extraordinary way to make Easter even more special for their church this year—they gave them a Rembrandt. The Rembrandt in question is a stunning antique intaglio of one of the artist's most iconic images "The Descent from the Cross," showing Jesus being taken down from the cross by his friends and family on Good Friday. Scott and Terry Jurek made the decision years ag...