See How Tim Yanke Created His 'Call of the American West' for the Monthaven Arts
In September 2020, the exhibition "Call of the American West" premiered at Tennessee's prestigious Monthaven Arts & Cultural Center, showcasing artist Tim Yanke's bold and evocative take on the iconography of the West.
Enjoy this look at this incredible exhibition, featuring the artist's innovative Neo-West compositions, and the story of Tim Yanke—a born-and-bred American original.
While Yanke's take on Western art is wholly unique, it also fits in beautifully with the long artistic tradition dedicated to the American West.
While writing about the exhibition, curator Leigh R. Hendry discussed the appeal of the West for American artists and how Yanke's singular and extremely personal interpretation of Western culture sets him apart from other contemporary artists.
###
Hendry wrote: "The allure of the grand American West has been beckoning artists of every genre for more than 150 years. From photographers to painters to sculptors to ethnologists to documentarians to conservationists, not to mention wealthy collectors and grand dames of artistic salons, the call of the American West was a siren song that rarely went unheard. …
Not surprisingly, like many artists then and now, when Tim Yanke first encountered the American West more than 55 years after O'Keeffe's initial visit there, he would have a similar eye-opening reaction to the unique surroundings and incredible light that she'd experienced. It was on a drive with his parents from Detroit down to Santa Fe and on to Flagstaff, Arizona that Yanke became enthralled with the expansiveness of the land, as well as the fascinating culture, customs and heritage of its Indigenous people, the Native American Indians, who had been inhabiting the land there for thousands of years.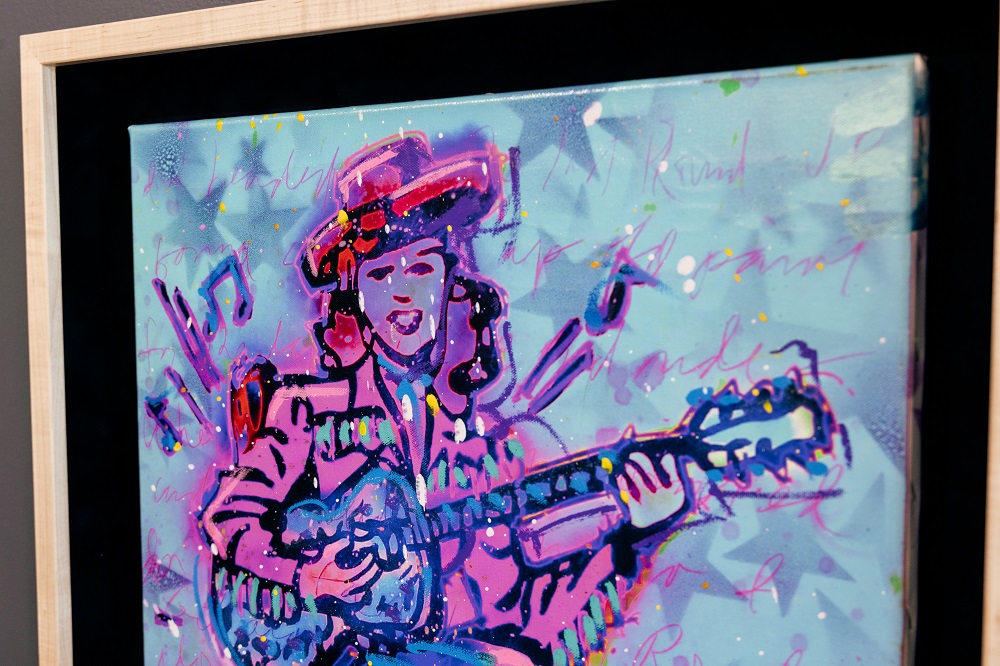 As Yanke had never traveled past the Mississippi River at the time, the journey defined a watershed moment in his life. He has crystal-clear memories of looking up at the unending western sky and marveling at its enormity through the big back window of his dad's icy blue Cadillac (a particularly fitting vehicle at the time, especially for folks who hailed from America's 'Motor City').
While Yanke had been viewing the world through his artistically inclined lenses since he was a boy, to see the immenseness of the landscape of Oklahoma, Texas, New Mexico and Arizona with his own eyes was mind-blowing and inspiring. The shades of rich nutmeg and deep cinnamon he saw in the terrain as they drove along one of his favorite routes (Highway 40) would figure in his work in the years to come, as would the vivid colors of the ever-changing sky. So, too, would the death in 1976 of his older sister, who'd been a student at Northern Arizona University. Yanke says the memories of his adventures out west and her death seem to have merged together in his mind over time; they're always with him, imprinted on his soul, like a familiar, poignant, engraving.
Yanke's appreciation for the fine artistry of America's Indigenous people, their customs and the diversity of their art represents another component of his formative western experiences. He pays special tribute to Native Americans' reverence for feathers in a series of 24 works, that, while diminutive in scale, collectively weigh in with an unexpected emotional heft. By boldly rendering them in non-traditional colors such as vermilion, brilliant green and aubergine, he imbues them with a shimmering, life-force energy.
He uses pigment, ink and graphite applied to Claybord to honor such 'natural flying machines' as butterflies, an insect with myriad meanings to Native Americans depending upon one's beliefs, and dragonflies, regarded as 'medicine animals' of healing and transformation, by corralling them together in the shape of a mandala, indicative of the cosmos.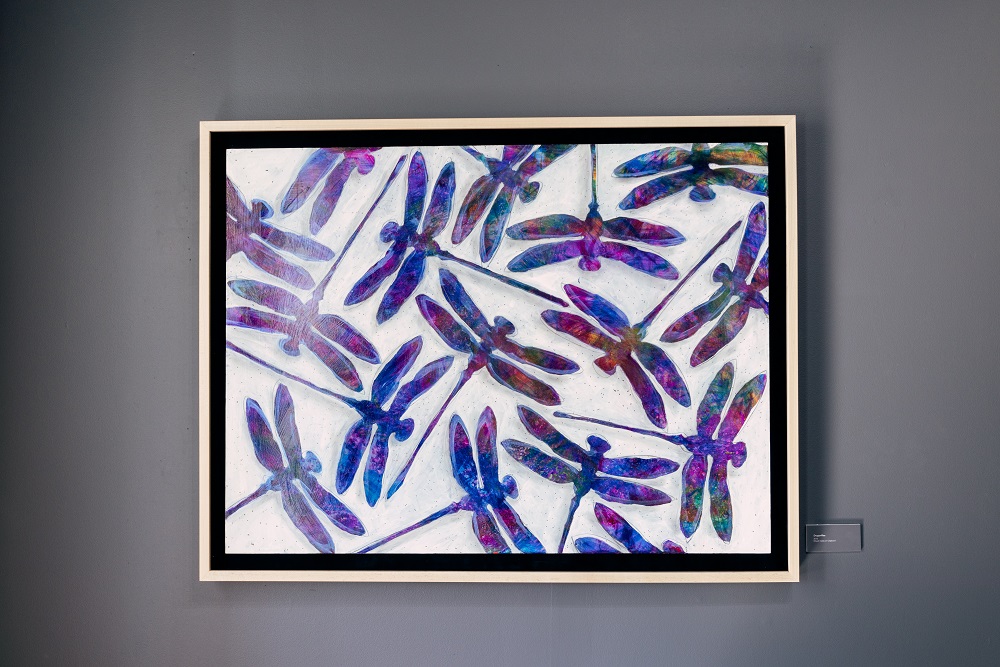 The stylized Navajo butterfly is another motif that makes frequent appearances in Yanke's work. These he features in saturated hues, which he paints using pigment, ink, pastels and charcoal to emulate the sense of having been woven into blanket designs. He lightly accents some of these images in a 'loose, illegible scripty' manner, using signature graffiti he includes in many of his works. Brilliantly colored American buffalo, featured as mighty monarchs standing tall and alone on their canvases, receive a touch of graffiti, too."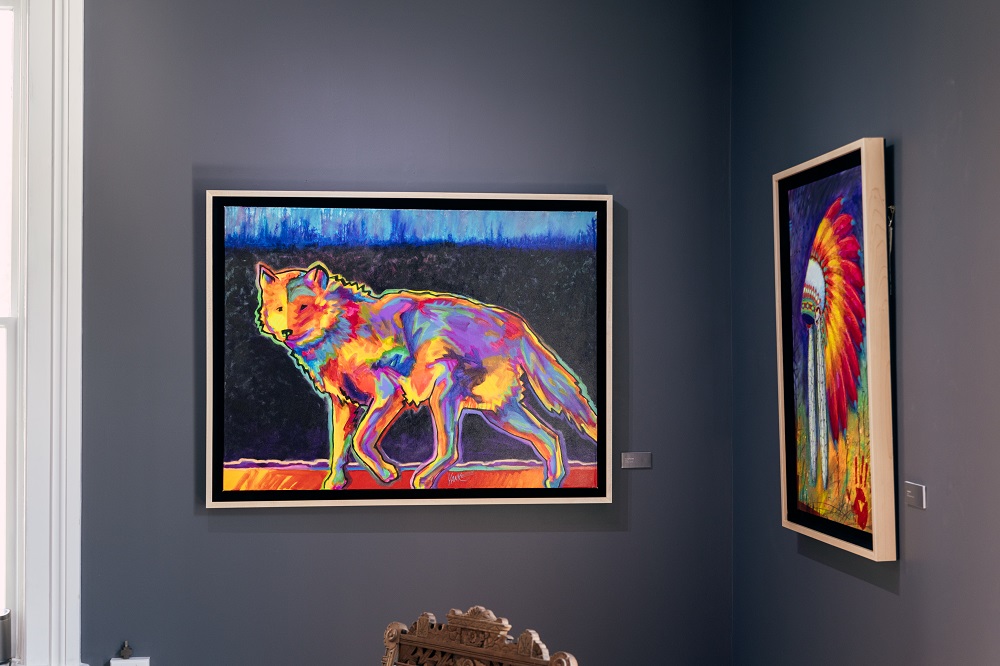 "Call of the American West: Works by Tim Yanke" appeared at the Monthaven Arts & Cultural Center from September 17 to October 30, 2022. You can find more information on the Monthaven Arts Center here: https://monthavenartsandculturalcenter.com/